Plan Your Visit
Location
MacTheatre performances take place in either the MAC (McCallum Arts Center) or the FABT (Fine Arts Building Theater). Both venues are located on the McCallum High School campus at:
5600 Sunshine Dr, Austin, TX 78756
The MAC is adjacent to the parking lot on the southwest corner of Sunshine Drive and Koenig Lane.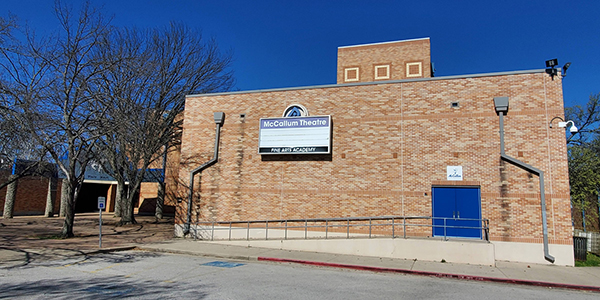 The FABT is on Sunshine Drive just south of the MAC. Look for the marquee on the side of the building.
---
Parking
For either venue, you may park in the lot on the southwest corner of Sunshine Drive and Koenig Lane (on the north side of the MAC). The upper part of that lot (nearest to the MAC) is closed due to construction, but the lower part (bordering Koenig) is still open. Limited parking is available in the Fine Arts Building circle, accessed from Sunshine Drive immediately south of the MAC.
---
MacTheatre Policies
Food and drink are not allowed inside the auditoriums. Please be courteous of other guests enjoying the performance:
All cell phones and electronic devices must be turned off prior to the performance.
No photography or recording equipment of any kind are permitted during the performance.
Please refrain from talking or whispering during the performance.
If anyone in your party regardless of age is being disruptive, we ask that they quietly exit to the lobby.
Please arrive at least 20 minutes early to avoid disturbing other patrons after the performance has started. The house typically opens 30 minutes prior to showtime.
---
Ticketing
Tickets for each performance may be purchased here until one hour before the performance.
MacTheatre DOES NOT OFFER REFUNDS on ticket purchases, but you may exchange your tickets for a different performance by contacting us at boxoffice@macrts.org no later than 24 hours prior to your originally scheduled performance.
Door tickets may be purchased at the box office, depending on availability.
Upon arrival, if you are unable to locate your tickets or have any questions, please stop by the box office. The box office opens 45 minutes prior to showtime.
---
COVID Protocol
MacTheatre abides by AISD COVID protocol at the time of the performance. Currently, masks are optional, but we are happy to provide masks for patrons who request one. Please keep in mind that the fluidity of this pandemic may require AISD to reinstate a masking requirement.
Currently, screening is not required to attend a MacTheatre performance, but please do not attend a performance if you are feeling sick.